Chef's Table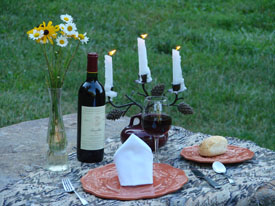 Imagine dining in the comfort of your rustic mountain home in a cozy kitchen setting or al fresco stargazing under a moonlit night. Experience the background hustle and bustle of organized kitchen clatter. Smell the aromas wafting, enjoy a cool libation, relax, feel free to ask questions and learn new culinary tricks of the trade while being served in an elegant manner.
Anticipate your four-course meal as it is prepared by a 36 year veteran executive chef. See and smell your culinary delights unfold in front of you and your guest(s). Your dining experience will be created using the freshest local ingredients available focusing on local markets and farms. An initial consultation will provide your chef the information needed to create the ultimate dining experience.
What could be more enjoyable then entertaining with a loved one or friends, dining in the privacy of this beautiful mountain setting?
No Work… No Worries…No Problems!   Eat.. Drink and Be Merry! The Way Life Should Be!
What You Get!
First Course: Appetizer
Second Course:   Soup or Cold Plate.
Third Course: Entrée
Fourth Course: Dessert.
Coffee or Tea service.
Cost: $152.00 per person plus tax and gratuity. Limited seating to 8 persons.
Chef Table arrangements should be made at time of lodging reservations. Restrictions may apply. CANCELLATIONS must be made 14 days in advance of arrival by telephone. Less than 14 days notice all charges apply and a cancellation fee will be charged.