Biker-Friendly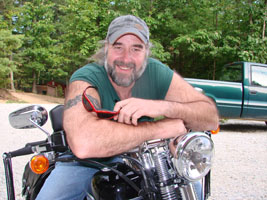 Rock-n-Creek cabin welcomes the biking community.
My biking friends call me "Grizz" and I am fortunate to live each day in this beautiful place, enjoying every moment when I head out on the open road on my bike.   I welcome fellow bikers to stop in and stay at the cabin.  Whether sitting by the campfire and sharing adventures or basking in the privacy my cabin hide-away offers, I want your stay to be a memorable one that you will tell all your friends about as they plan their Blue Ridge excursions.
Located just 1.5 miles off the Blue Ridge Parkway at mile post 27. Weither traveling north or south we are centrally located along the 465 mile stretch of the parkway.
The Parkway offers bikers great opportunity to experience the vast open road and the thrill of touring this pristine treasure. Meander through the long rolling hills and curves amongst the mountain laurel, rhododendron, wildflowers and open fields where encountering an abundance of wildlife is an everyday occurrence.
After traveling all day through mountain roads that offer limited lodging stops, Rock-n-Creek Cabin is a welcome destination for the sight-seeing biker! Rock-n-Creek Cabin offers all the amenities and comforts of home as well as the comforts you require for your steel. Important things that bikers expect like Covered Secured Parking, 12x20 Concrete Pad Cleaning Station, complimentary use of Power Washer and Cleaning Supplies. Rock-n-Creek Cabin is more then just a cabin… It's a destination and way of life.
- Links to websites of interest to bikers
- Motorcyle touring routes
- Biker humor