Cabin Rates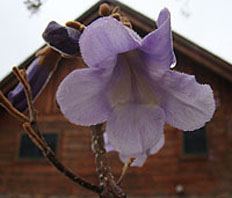 Rock-n-Creek Cabin is an exclusive mountain getaway nestled in the heart of the Blue Ridge Mountains. Our well appointed and fully furnished cabin has been designed with your comfort and convenience in mind.
Lodging is available year-round without seasonal increases, and in addition to our flat daily rate, we offer weekly and group packages without increases for weekends, high seasons and holidays.
Children and well-behaved pets are welcome and there is no additional charge for children 12 years and younger.
We know that to get here you may be traveling from a distance and we feel you will appreciate our flexible check-in/check-out policy. Contact us so that we can discuss your arrival and departure needs. We are here to help you personalize your mountain experience!
Whether you are a solo visitor, couple, family or group, we've designed a package for your vacationing pleasure.
You must be 21 years of age or older to make reservations.
Rates
Straight Rate: $ 195.00 per night (double occupancy)(2 persons)
Additional persons up to (5) adults 13 years and older $30.00 per night.
Children 12 years and younger: no charge.
Rates do not include: City, County, State Lodging/Sales Tax/Fees
---
Adult Group Rate: $ 315.00 per night, based on six adults
Additional persons above six adults, 13 years and older: $20.00 per person/ night.
Children 12 years and younger: no charge.
Rates do not include: City, County, State Lodging/Sales Tax /Fees
---
Weekly Rates: Please contact our Reservations Office at 540.377.9383.  Rock-n-Creek Cabin does not up-charge for High-Seasons and Holidays. We offer the same lodging rates year round. So what else is there to consider, make that call today.
Please review our cancellation policies.
_______________________________________________________________________________________________________________________________________________________________________
Concierge Services: Let us make your arrangements for you!
Rock-n-Creek Cabin offers special amenities that can be added onto your cabin stay. Please contact 540.377.9383 our office if interested in adding or booking any additional services. This should be done at the time you are making your reservation. All services are subject to availability and can not be guaranteed.
No worries and hassle free! Rock-n-Creek Concierges Service allows you to plan your activities without the worries of sourcing. We already know all the places you are looking to enjoy during your stay and we will gladly make those arrangements for you. You tell us what you would like to do and when. Its that easy!  A modest Concierge Fee will be charged to make your reservations, and well worth it. (Note all services are made through a third party, so it is imperative that you meet your obligation to be on time or make a cancellation within our policies. Failure to comply will result in payment being made on the credit card on file.
Therapeutic Massage: 1 hour Sessions: Single $95.00   Couples $190.00
Enjoy a personal one hour massage in the privacy of your cabin indoors or outdoors on our large secluded deck weather permitting. All message therapist are Certified, Licensed and Insured. Massages are available for single, couples and groups. When group massages are scheduled additional therapist are brought in at no extra charge to accommodate the group. This will help reduce the time it would take to get everyone taken care of in a timely manner giving you more time to do the things you want to do. We will do our best to accommodate your preferred times and date for scheduling your massage. Scheduling is based on availability and some restrictions apply. Please call our office to schedule your appointment and discuss cancellations policies. Massages are offered from 10:00 AM to 7:00 PM.  (No Concierge Fee) Cancellation Policies require 48 hours notice and a Credit Card on file for the purpose of securing your reservation.
Designated Driver:  1-3 person(s) $50.00 per person. 4-8 person(s) $30.00 per person.
So you want to Hop-Skip & Jump to all the watering holes without the issues associated with drinking and driving. We will drive you to the Vineyards, Breweries, Restaurants and Places of Interest without the hassles of driving yourself. The mountain can be daunting to those not familiar with driving the mountain and the area. Our service will assist you with planning and routing your days events and stops without any hassles. Ride in the comfort of new luxurious Cadillac Escalades with professional and courteous drivers. Scheduling is based on driver availability. Each vehicle can carry 5-6 persons. If necessary an additional car may be added depending on number of guest. Please contact our office to make arrangements and book your ride. Payment will be made in cash at time of scheduled pick-up. Restrictions apply: Rates are based on five hours of travel time, additional time can be added for additional cost. (No Concierge Fee)
Cancellation Policies require 48 hours notice and a Credit Card on file for the purpose of securing your reservation.
Scenic Mountain Trail Ride:    1 hour $40.00       2 hour $65.00        3 hour $85.00
Get Back To Nature! Experience the scenic backcountry from horseback. Meandering through the Blue Ridge Mountaintops' or along the Old Irish Creek Railway, dipping into the hollers along the Tye River or the crest of the upper Crab Tree Falls. The tallest vertical cascading waterfall east of the Mississippi. Whatever you choose you will enjoy the beautiful views and vistas along this scenic backcountry. Offered Spring and Summer. Your reservation is based on availability. Special rates for groups, please contact our office for details.
(Concierge Fee Applies) cancellation Policies Require 48 hours notice and a Credit Card on file for the purpose of securing your reservation.   
River Tubing:                 Tube Rental $20.00
Enjoy an relaxing float down the Upper James River. This relaxing float will roughly take 1-2 hours depending on the water level. Upon arrival you will check-in and after a short orientation you will be shuttled upriver and launched. You will enjoy the refreshing rush of the James River and float back to the parking lot where your car is parked. You are welcome to take the shuttle back up stream for another run, its up to you. The first half of the trip has great current with 4 class 1 rapids, nice and easy and the last half slows but still moves without having to paddle. Price includes Tube Rental, Life Jacket, Safety Orientation and All required Shuttles. Upriver shuttle departs every 30 minutes. Minimum age 6 years old.
(Concierge Fee Applies) Cancellation Policies require 48 hours notice and a Credit Card on file for the purpose of securing your reservation.
Fly Fishing and Float Trips:  Staring at $195.00-$750.00   Please contact our office by telephone for details.
Rock-n-Creek Cabin offers a full service guiding service and instruction. Our professional guides are the best in our area and know where to go for the catch. Trips can be tailored to fit your budget and are based on availability of the outfitters. Some trips are offered as half day and full day. Some are wading in area streams and rivers and others are full day floats down several great rivers. Depending on your preference you can choose a full day float for Small Mouth down the Shenandoah, James and Jackson Rivers. These include lunch. Or you may choose fishing in the South River and Shenandoah National Park for native Brook Trout. Whatever you enjoy we have a package that will fit your needs. Reservation are required and are subject to availability.