Cooking Class Getaway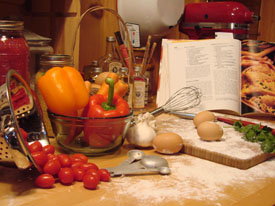 Class size: Min. 2 Max. 6
Enjoy a weekend in the mountains cooking with Executive Chef Richard Christy your host. Get involved, look, listen and drink wine together. Then enjoy your meal prepared in your class.
Girls! Guys! Couples! Mix and match! Bring your friends. It's a culinary weekend way of life. Enjoy it!
Cooking Class Getaway is great for couples wanting a romantic retreat from the hustle and bustle of city life.
Two nights cabin lodging for each guest. Arrive Friday – depart Sunday. Weekdays available also.
Full use of Rock-n-Creek property.
Schedule
Welcoming Hors d'Oeuvres and cool beverages. Upon arrival
Meet and greet those you don't know.
Take the day to enjoy the mountains, nap, walk about or do as you please. Just be back by 4 p.m. sharp to prepare for the dinner class and social.
Evening: Dinner Class and Social.
Dinner Class: 5-8 p.m., learning, tasting and socializing. Class consists of entree and side dishes. Meal includes salad, bread/roll and dessert.
Dinner Served. 8:30 p.m., dine al fresco, weather permitting.

$330.00 per person.
It is suggested to bring your own favorite libations.
CANCELLATION must be made 14 days in advance of arrival by telephone. Less than 14 days notice all charges will apply and a cancellation fee will be charged.