Virginia Cabin Rental, Romantic Blue Ridge Mountain Cabin Overlooking The Heart Of The Shenandoah Valley.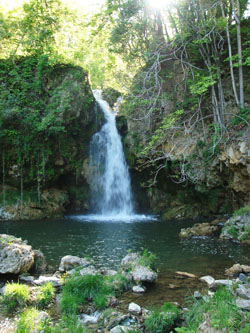 Welcome to Latitude N37.85541° & Longitude W79.19448°, Rock-n-Creek Cabin, "A Diamond in the Crust ®," nestled in the Romantic and Beautiful Blue Ridge Mountains of Virginia. Just a stone's throw from the quaint village of Montebello, Virginia, whose name translates, appropriately enough, to "beautiful mountain." Located just 1.5 miles off of The Blue Ridge Parkway at mile post 27 and perching atop Whetstone Ridge at 3,220 feet above sea level one of the highest ridges along the parkway system.
We at Rock-n-Creek Cabin set ourselves apart from others offering for our guests beautiful accommodations, special amenities, an attention to detail, and the opportunity to be served and pampered by a certified executive chef in the privacy of your cabin.
__________________________________________
Buck Island Bay Decoys was featured recently in the Daily Progress. Click here for the story and here for the multimedia presentation.
Buck Island Bay Decoys was also spotlighted in a recent edition of Nelson County Life. Click here for that article.
__________________________________________
 Motorcycle News Update.
This year our winter has been very mild, which opens up the possibilities to ride The Blue Ridge Parkway during the winter time. Check Out our BLOG on Riding The Parkway In Winter.
__________________________________________
Our little oasis is seated in the midst of a giant granite outcrop that seems to cradle and embrace this humble little place. "The Guardian Rock," as we call it, towers above the cabin and runs for several hundred yards along the mighty North Fork of the Tye River, a natural river for native brown and brook trout that is stocked year-round by the State of Virginia at it's Montebello Fish Hatchery just 1.5 miles from Rock-n-Creek Cabin.
The open spaces here offer our guests the opportunity to meander through the paths of wildflowers, rambling creeks and frog ponds. Sit on a bench, daydream, ponder your thoughts, enjoy the solitude of country charm. Or take a walk in the woods, wade in the creek, hold someone's hand. And in the process soak up every bit of pleasure this remote little haven has to offer. Come to the pinnacle of the Blue Ridge and truly look out and over the Shenandoah Valley and marvel at all there is to see. Rock-n-Creek Cabin is not just a place, but a destination.
Thank you for visiting our website and please take the time to navigate the pages to find out more about what we have to offer here at Rock-n-Creek Cabin.
See what Rock-n-Creek Cabin has to offer